Part a - Multidrug resistant pathogen risk-factors
A 68 year-old patient underwent a cholecystectomy in a hospital. On the fourth day of hospitalization, she developed a fever and increasing shortness of breath. Hospital acquired pneumonia was suspected. Her past medical history includes cholelithiasis, hypertension, type 2 diabetes mellitus, renal insufficiency (creatinine clearance is 37 ml/min) and osteoarthritis. The patient is documented to have sulfur allergy (reaction: skin rashes after taking sulfamethoxazole/trimethoprim). From preliminary culture results, multi-drug resistant pathogens are suspected.
State the risk factors for multi-drug resistant (MDR) pathogens in this patient. (3 marks)
Hospital acquired pneumonia HAP is pneumonia occurring 48 hours or more after hospital admission (and not apparent on admission).

Since the patient recently had a cholecystectomy (removal of the gall bladder), she would have received some type of intravenous antibiotic for surgical prophylaxis (to prevent surgical site infection). (Surgical prophylaxis in Part VI of IMPACT.)

Risk factors for MDR pathogens in this patient:
IMPACT: HAP onset 4 days or more after admission if also had antibiotics recently. Or if 5 or more days after admission.
IDSA: Prior intravenous antibiotic exposure within 90 days.
Other general risk factors for MDR infection
Extended hospital stay
Broad spectrum antibiotics
Surgical procedure with antibiotic prophylaxis
Co-morbidities
ICU stay
Mechanical ventilation
Age
References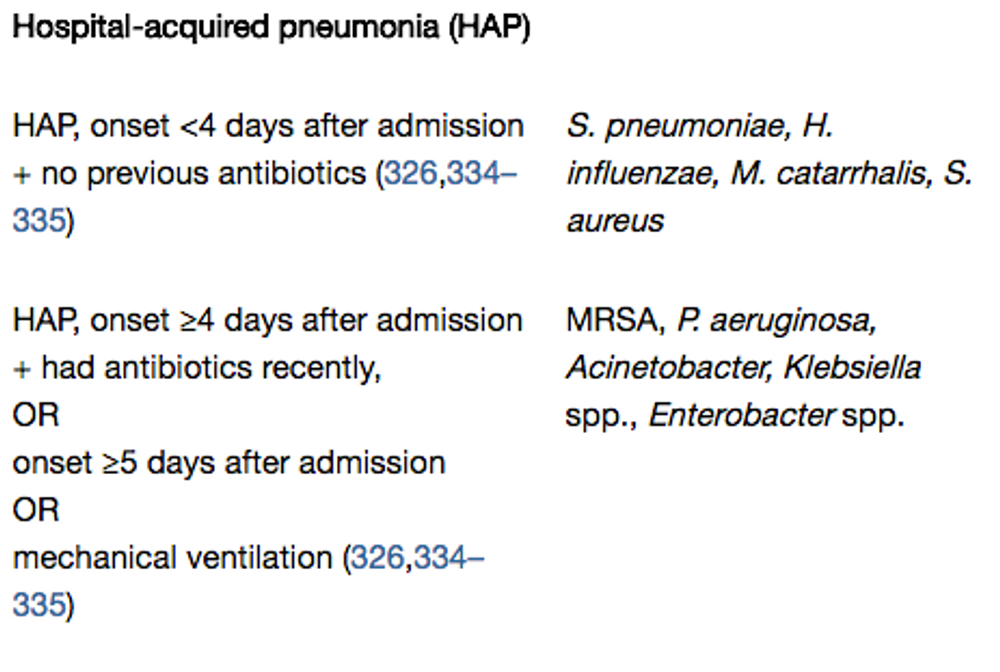 Complete and Continue